The application time is now over, and if you are like me, you are already looking into how is life up here in the North, while singing ABBA and looking at IKEA catalogs. And if you are doing this, you probably stumbled on a question: where I am going to live? Well, it' no secret that renting in Stockholm is quite a Challenge, one that you must be ready to tackle.
In this post, I will try to explain how things work and give some tips. Hope it helps!
By the way, no matter what, at least your landlord won't be as mean as Pearl.
KTH Accommodation
One very important thing to know before reading on is that the following groups of students are guaranteed housing in Stockholm through KTH Accommodation:
Tuition fee paying students and students who hold a waiver which covers their tuition fees
Joint Master Programme students: Erasmus Mundus (including NordSecMob), EIT, and Nordic Five Tech
Have a look here to read more about KTH Accommodation and how to contact them if you have any questions!
The Queue
As you probably now, Sweden is famous for its amazing social security system. People have a solid infrastructure when it comes to health, education, transportation, benefits, and so on. The same logic is applied to housing, and the government created an agency to regulate housing market, guaranteeing that everyone will have an affordable place to live. It's great, right?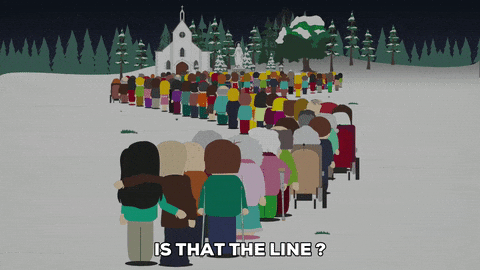 In theory, it's perfect. Imagine living in a capital with no housing speculation and price spirals? It would be the best! But the reality is quite different. What happens is that there is a housing shortage in the city. So just a few lucky ones can manage to find these first-hand cheap rentals. In fact, people can stay years and years in a queue for a contract. The average is around 8 years of waiting in a list, but depending on the region it can go up to 20 years. These numbers are not typos, they are real.
This is a real screenshot from Bostads Förmedlingen, who runs the whole thing. Of course one can argue that this apartment is in Södermalm, central-hip Stockholm, but things do not get much better anywhere.
To get an idea, just look at this: a politician tried to put the queue in the Guinness World Records book, as the world's longest waiting list. It makes sense for me and the half million people one the waiting list.
How do people do it?
As far as I know, people get to start collecting points as soon as they can. And by that, I mean that parents register their newborn babies so that when they want to move they have enough points.
It means that foreigners have no chance in getting the first-hand contracts, which mean we have to go to the market. And here the market rules.
Why is it almost impossible renting an apartment in Stockholm
The Housing Market
Once I read that the law says the first-hand contractor can only put 15% on the price to sublet the apartment. It seems quite fair. One pays a considerably low rent, sublet with 15% profit and everybody is happy. Well, things do not work that way.
In practice, the prices vary wildly and the 15% rule simply does not exist. On top of that, there are also scammers who try to benefit from the fact you are a newcomer who can't speak Swedish at all (imagine a renting contract in lawyery-Swedish-terms)
There is a great blog called Lost in Stockholm, with a amazing series of post on Housing in Stockholm. They have this list of signs that you are being scammed:
Signs of under the table and corrupt apartment owning:

The landlord wants you to pay in cash

You write one amount on the contract, yet pay another amount. This is illegal. You can sue the owner for the amount because he/she has a firsthand apartment where there is rent ceiling for secondhand renting. Obviously, this gets out of control in Stockholm since few people possess the common sense and moral values to obey Swedish law.

Scammers want you to pay in advance a deposit to see the apartment. DO NOT!!!!

You are unsure if the coop board approved you. Concerned? Do NOT sign until you meet the board.

Trust your instincts. Most renters are out to make extra money and circumvent the law. Don't be a victim to greedy bastards.

You are not allowed to put your name on the door. Again, this is a sign that the owner never received approval to rent.
Also, they provide a great explanation of the market.
Ok, so how can you find something?
Maybe the university will provide accommodation. If they do, you are lucky. But that was not my case (KTH does not provide housing for European students). Then you are on your own. And there is only one way to find a rental for you: looking for it.
Yes, it sounds stupid, but what I mean is that the market is crazy over here, so you must look tirelessly. Luckily, you don't need to be in Sweden to start looking, as everything is online. Here are the websites I constantly checked when I was looking for a rent:
You can also try the SSSB, which stands for Stockholms Studentbostäder. It's the students only queue. You can enter the waiting list now and be there for 90 days without a registration by a student association. I strongly recommend you to enter the SSSB system as soon as you can, but keep in mind you will need a lot of days to get something nice.  
And there is also a couple of  Facebook groups you can join:
https://www.facebook.com/groups/lagenheteristockholm/
https://www.facebook.com/groups/525315364251181/?ref=br_rs
Some Practical Tips
> Craft your profile
Landlords can be quite picky, so be sure to present yourself well in the housing websites. Tell people what are you into, hobbies, interests. If you are not into partying, make it clear. I can imagine a lot of people make an instant association between foreigners students and party animals.
> Every offer will get a thousand applications
Always remember that there will be a lot of people applying to the apartments you like. So be careful and crafty with your presentation letter. Make sure to show people that you are trustful and interested, do not just apply to a blank email.
> Find a temporary housing beforehand
Before leaving Brazil, I got an Airbnb for 45 days upon my arrival in Sweden. It is not a cheap option, but you can try hostels or couch surfing, for example. My point here is that I felt safer knowing I had a roof while I was searching for a place here.
> You probably won't find something in advance
If you decide to come to Sweden, you will probably try to figure everything out before getting here, right? That might not be the case with the apartment. Remember that the offers come and go super fast, so it will be hard to arrange a place 3 or 4 months in advance.
> Talk to People
There is always somebody going back home and leaving an empty room, or something like that. Talk to people and check if they don't know of any offer around.
> Why not a Republic?
Before I came here, some other Brazilian students that were coming to KTH decided to look for something together. We figured it out that we could rent something bigger and split the costs. In the end, we gave up on the idea, but it is an option, right?
Wrapping it up
I am loving Stockholm, really am. But this whole renting thing is the worst. I trully think it is a great idea gone wrong, that should be reavaliated. But what do I know, I am here for less than a year, right?
Anyway, I know the insecurity and anxiety of having no place to stay, and just a few expensive options. It is awful! So I hope this post can help you understanding what kind of challenge are you getting into.
And if you have any doubt, please, ask me. I will do my best to help you.
/tomas