This course has been discontinued.
Last planned examination: Autumn 2018
Decision to discontinue this course: No information inserted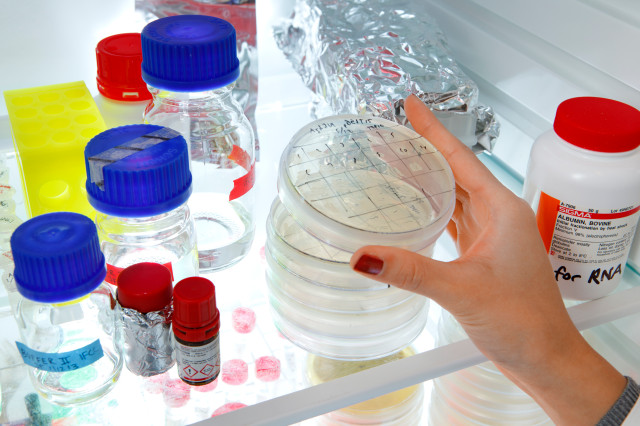 Course offering missing
Course offering missing for current semester as well as for previous and coming semesters

Course offering missing for current semester as well as for previous and coming semesters
* Retrieved from Course syllabus BB1110 (Autumn 2012–)
Content and learning outcomes
Course contents
The course focuses on the most important gene technology principles/methods and thereto-relevant concepts in molecular biology will be reviewed. An in-depth look at prokaryotic and eukaryotic gene expression and recombinant protein production and optimization will be central. In addition, several important applications of molecular biotechnology will be presented and discussed. Some of the topics covered:
transcription/translation regulation
recombinant DNA (enzymes, vectors and host cells)
PCR techniques
DNA sequencing
mutagenesis, gene libraries
screening and selection methods
design of recombinant processes (promoters, vectors, host cells, gene fusions etc)
therapeutic strategies (vaccine technology, gene therapy etc)
DNA diagnostics
transgenic organisms
functional genomics
laboratory exercise (site directed mutagenesis, screening/selection, DNA sequencing, protein expression and characterization)
Intended learning outcomes
Breakthroughs in molecular biology and biotechnology have the last decades paved the way for completely new strategies that hold promise to solve real-world problems; some are related to the diagnosis and treatment of disease, others to the use of genetically modified organisms for detoxification of the environment or production of biofuels, while still others deal with the engineering of proteins to adapt them for specific applications.
The course's main goal is to provide a good insight into the principles and methods on which modern (molecular) biotechnology is based as well as an understanding of their inherent possibilities and limitations to address and solve modern day problems.
After passing the course, the student should be able to:
describe the function of commonly used enzymes within the field of molecular biotechnology
from a given problem, design a suitable PCR-setup/strategy; for example, how to clone a certain gene, and explain the function of all necessary components
explain the principle behind different DNA-sequencing methods and discuss their possible strengths and weaknesses
give examples of different physical and genetic strategies for modification/manipulation of gene expression and describe which consequences this will have at a cellular level
describe different mutagenesis, screening, and selection methods that are used within protein engineering and suggest strategies for how these techniques can be applied in order to solve/address a given issue
from a given issue or problem, choose an appropriate combination of host-vector system and describe its specific advantages and disadvantages in relation to other conceivable combinations. The student should also be able to describe/explain the function of the different vector component/elements
describe the principles behind modern gene technology-based therapeutics such as modern vaccines and gene therapy, and give examples on some of the advantages/disadvantages and possible limitations compared with traditional treatments
give examples of methods for transcriptome and proteome analysis and explain the underlying principles
present and evaluate a laboratory exercise in a written report
Course Disposition
No information inserted
Literature and preparations
Specific prerequisites
Completed upper secondary education including documented proficiency in English corresponding to English A. For students who received or will receive their final school grades after 31 December 2009, there is an additional entry requirement for mathematics as follows: documented proficiency in mathematics corresponding to Mathematics A. Specific requirements in mathematics, physics and chemistry are corresponding to Mathematics E, Physics B and Chemistry A.
Recommended prerequisites
BB1010 Introduction to Biotechnology, BB1020 Cellbiology with Immunology and BB1080 Biochemistry
Equipment
No information inserted
Literature
Biotechnology: Academic Cell Update Edition
Academic Press
David P. Clark, Nanette J. Pazdernik
ISBN: 0123850630, 9780123850638
Examination and completion
If the course is discontinued, students may request to be examined during the following two academic years.
Grading scale
A, B, C, D, E, FX, F
Examination
LAB1 - Laboratory Work, 1,5 hp, betygsskala: P, F
TEN1 - Examination, 5,5 hp, betygsskala: A, B, C, D, E, FX, F
Based on recommendation from KTH's coordinator for disabilities, the examiner will decide how to adapt an examination for students with documented disability.

The examiner may apply another examination format when re-examining individual students.
LAB1 - Laboratory Work, 1.5 credits, grade scale: P, F
TEN1 - Examination, 5.5 credits, grade scale: A, B, C, D, E, FX, F
Other requirements for final grade
A written exam (TEN1; 5,5 credits, grading scale A-F) and labs (LAB1; 1,5 credits, grading scale Pass/Fail).
Opportunity to complete the requirements via supplementary examination
No information inserted
Opportunity to raise an approved grade via renewed examination
No information inserted
Examiner
Paul Hudson
Ethical approach
All members of a group are responsible for the group's work.
In any assessment, every student shall honestly disclose any help received and sources used.
In an oral assessment, every student shall be able to present and answer questions about the entire assignment and solution.
Further information
Course web
Further information about the course can be found on the Course web at the link below. Information on the Course web will later be moved to this site.
Course web BB1110
Offered by
Main field of study
Biotechnology, Technology
Education cycle
First cycle
Add-on studies
No information inserted
Contact
Paul Hudson (huds@kth.se)
Supplementary information
Note the examination is during VT (period 3). However, students must sign up for the examination during HT (period 2)
Students are required to sign up at least two weeks in advance for examination.
The course is given provided at least seven students are admitted.
The course overlaps with the course BB1190