DD2385 Software Engineering 6.0 credits
This course has been discontinued.
Last planned examination: Spring 2020
Decision to discontinue this course: No information inserted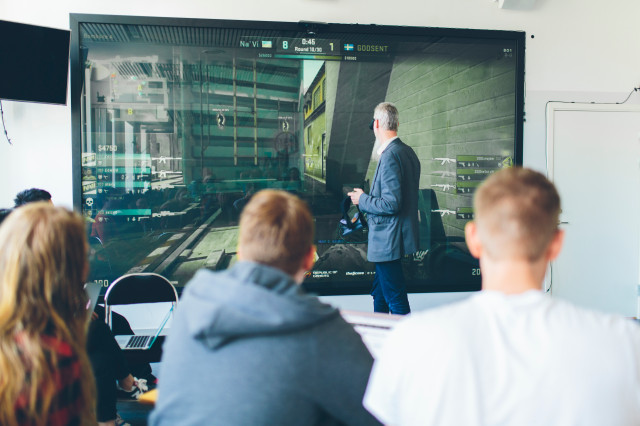 A second course in computer science treating object oriented programming, object oriented modeling and analysis, program development with design patterns and advanced Java class libraries.
Course offering missing
Course offering missing for current semester as well as for previous and coming semesters

Course offering missing for current semester as well as for previous and coming semesters
Headings with content from the Course syllabus DD2385 (Spring 2013–) are denoted with an asterisk ( )
Content and learning outcomes
Course contents
Object oriented programming in Java. Class libraries for collections, grafical components, client-server programming and threads. UML class diagrams.
Design patterns for object oriented program development and design criteria.
XML. Common object oriented methodologies. Testing. Other UML than class diagrams.
Lab work in Java. Alls labs are documented with UML.
Intended learning outcomes
The overall aim of the course is to provide an understanding of basic object oriented software development including the use of design patterns, based on the Java programming language.
After the course you should be able to:
Use object oriented principles and concepts including loose coupling, encapsulation, inheritance and polymorphism in your own programming.
Describe and apply principles for good object oriented design.
Describe common design patterns and choose suitable patterns for simple applications.
Use UML class diagrams to document your own programming work in a clear and legible way.
Interpret UML class diagrams, e.g. as introduction to new 
design patterns.
Understand a variety of advanced Java features including Swing GUI 
components, exceptions, network programming and concurrency and be
able to use these in lab work.
Perform an object-oriented analysis of an informal text-based software requirements document and use a Noun/Verb/Relational-Phrase methodology, to construct a data dictionary.
Translate the information contained in a data dictionary into a UML class diagram which accurately models the same information, including aggregation, inheritance and multiplicity.
Course disposition
No information inserted
Literature and preparations
Specific prerequisites
Single course students: 90 university credits including 45 university credits in Mathematics or Information Technology. English B, or equivalent and Swedish B, or equivalent.
Recommended prerequisites
Knowledge in programming and computer science corresponding to the courses DD1320, DD1321, DD1343 + DN1243 or DD1344.
Skills in the Java language corresponding to DD1342 or DD2310.
Equipment
No information inserted
Literature
Course literature will be announced at least 4 weeks before course start at course web page. The year before this Brande, Software design, was used.
Examination and completion
If the course is discontinued, students may request to be examined during the following two academic years.
Grading scale
A, B, C, D, E, FX, F
Examination
LABA - Laboratory Work, 3.0 credits, grading scale: A, B, C, D, E, FX, F
TEN1 - Examination, 3.0 credits, grading scale: A, B, C, D, E, FX, F
Based on recommendation from KTH's coordinator for disabilities, the examiner will decide how to adapt an examination for students with documented disability.

The examiner may apply another examination format when re-examining individual students.
In this course all the regulations of the code of honor at the School of Computer science and Communication apply, see: http://www.kth.se/csc/student/hederskodex/1.17237?l=en_UK.
Opportunity to complete the requirements via supplementary examination
No information inserted
Opportunity to raise an approved grade via renewed examination
No information inserted
Examiner
Vahid Mosavat
Ann Bengtsson
Ethical approach
All members of a group are responsible for the group's work.
In any assessment, every student shall honestly disclose any help received and sources used.
In an oral assessment, every student shall be able to present and answer questions about the entire assignment and solution.
Further information
Course web
Further information about the course can be found on the Course web at the link below. Information on the Course web will later be moved to this site.
Course web DD2385
Offered by
Main field of study
Computer Science and Engineering, Information Technology, Information and Communication Technology
Education cycle
Second cycle
Add-on studies
DD1388 Program System Construction Using C++
Contact
Vahid Mosavat (vahid@kth.se)
Supplementary information
The course will from 2017/2018 have the new course code DD1385.