IK1203 Networks and Communication 7.5 credits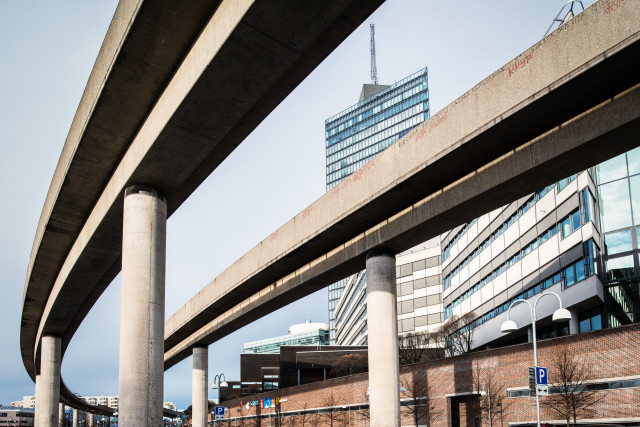 The course is an introduction to networking, protocols and communication.
We study how large international networks are constructed from the individual computers, via local area, city and national networks. We use the Internet as or working example of such a network. The aim of the course is to give insights into both the theory and practice of the area.
The focus of the course is on the protocols and algorithms used, and we will follow how they are used and implemented into the TCP/IP-stack - the basis of the Internet.
Choose semester and course offering
Choose semester and course offering to see current information and more about the course, such as course syllabus, study period, and application information.
Headings with content from the Course syllabus IK1203 (Spring 2020–) are denoted with an asterisk ( )
Content and learning outcomes
Course contents
Flow control and error control: flow control (stop&wait, sliding window), error detection and error handling, error correcting codes, retransmission (ARQ).
Layered models: overview of OSI and TCP/IP.
LAN (Local Area Network) and LAN-systems: topologies, access- techniques and protocols, token ring, Ethernet, wireless networks bridged networks, spanning tree computation and VLAN.
Packet and circuit switching: WAN (Wide Area Network) and public networks, principles, characteristics and protocols.
Internetworking and IP: design principles and building blocks, connection oriented vs. connectionless protocols, Internet routing and Internet Protocol (IP).
Transport layer protocols: TCP, UDP.
Communcation models: "Client-server" and "peer-to-peer".
Applications: DNS, SMTP, FTP, HTTP, Telnet mm.
Network programming.
Intended learning outcomes
The goals of the course is to teach the basics of networking and communication. For those interested in specializing in networking, it provides the fundamentals on which later courses build.
For those focusing on other areas of IT, it provides the basic knowledge needed to understand how networks and communication can be securely and effectively utilized in systems and applications.
After completing the course, students should be able to
describe and explain the basic terminology used in networking and communication
analyse communication scenarios and application requirements, and explain what methods and algorithms are suitable to use for a desired communication service
explain, model and analyse the behaviour of networks using different methods for error control, flow control and congestion control, and predict how such a system will react in response to different events and conditions
explain the functions of protocols of the different layers of the Internet model, and how different layers interact with each other
explain and implement basic algorithms and mechanisms for error detection, error correction, flow control, congestion control and routing
design, implement and analyse the behaviour of basic Internet applications and their protocols
explain different functions and concepts concerning equipment for communication and networks
compute and/or approximate the performance of communication systems, and suggest improvements.
Course disposition
No information inserted
Literature and preparations
Specific prerequisites
Completed courses corresponding to:
ID1018 Programming I
IE1204 Digital Design
Recommended prerequisites
No information inserted
Equipment
No information inserted
Literature
James Kurose and Keith Ross, "Computer Networking: A Top-Down Approach", Global Edition, 7/e. ISBN: 9781292153599
Examination and completion
If the course is discontinued, students may request to be examined during the following two academic years.
Grading scale
A, B, C, D, E, FX, F
Examination
LABA - Laboratory Work, 3.0 credits, grading scale: P, F
TENA - Examination, 3.0 credits, grading scale: A, B, C, D, E, FX, F
UPG1 - Assignment, 1.5 credits, grading scale: P, F
Based on recommendation from KTH's coordinator for disabilities, the examiner will decide how to adapt an examination for students with documented disability.

The examiner may apply another examination format when re-examining individual students.
The written exam (TENA) is given in English. Solutions may be provided in Swedish or English. 
Opportunity to complete the requirements via supplementary examination
No information inserted
Opportunity to raise an approved grade via renewed examination
No information inserted
Examiner
Peter Sjödin
Ethical approach
All members of a group are responsible for the group's work.
In any assessment, every student shall honestly disclose any help received and sources used.
In an oral assessment, every student shall be able to present and answer questions about the entire assignment and solution.
Further information
Course web
Further information about the course can be found on the Course web at the link below. Information on the Course web will later be moved to this site.
Course web IK1203
Offered by
Main field of study
Technology
Education cycle
First cycle
Add-on studies
IK1550 Internetworking.
IV1013 Introduction to Computer Security
Contact
Peter Sjödin, psj@kth.se
Supplementary information
In this course, the EECS code of honor applies, see: http://www.kth.se/en/eecs/utbildning/hederskodex.
The content in this course overlaps partly with IK2218 Protocols and Principles of the Internet 6 credits.