KD1230 Organic Chemistry, Basic Concepts and Practice 6.0 credits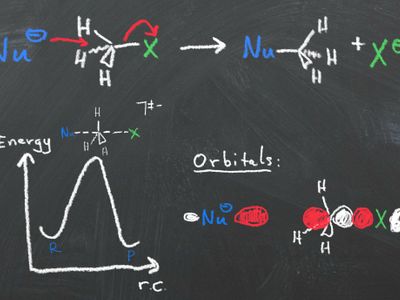 Choose semester and course offering
Choose semester and course offering to see current information and more about the course, such as course syllabus, study period, and application information.
Headings with content from the Course syllabus KD1230 (Spring 2020–) are denoted with an asterisk ( )
Content and learning outcomes
Course contents
The course objective is to provide a strong introduction to organic chemistry in terms of structure and reactivity, practical synthetic work and green chemistry. The course also provides a solid base for further specialization in organic chemistry.
Short course description:
Nomenclature
Conformation/configuration
Reaction mechanisms
Frontier molecular orbital theory
Proton transfer/pKa
Substitution/elimination
Addition reactions
Green chemistry
Detailed course description:
applying the organic chemistry language, e.g. describe organic structures graphically, naming organic compounds according to the IUPAC nomenclature, give trivial names for some common compounds and describe the three- dimensional structure of organic compounds graphically and according to CIP nomenclature.
identifying and ranking nucleophiles, electrophiles, acids and bases in a chemical reaction.
how acid/base equilibrium/pK /proton transfer influence the outcome of a reaction.
electron (arrow) pushing to describe reaction mechanisms.
frontier molecular orbital theory to categorize which orbitals that are HOMO and LUMO in organic molecules and apply these to determine the outcome of a reaction.
based on reaction conditions predict if a reaction proceeds through a SN1, SN2, E1 or E2 mechanism and explain the stereochemical and regiochemical outcome. Inversely, describe reaction conditions to control a reaction so that it proceeds via a SN1, SN2, E1 or E2 mechanism.
an organic compound's stereochemistry to determine its conformation and reactivity.
the reaction mechanism and the stereo- and regiochemical outcome of additions of electrophiles to alkenes.
the concept of green chemistry and its application in organic chemistry and how this can apply for sustainable development.
basic spectroscopic methods (NMR) for structural analysis of organic compounds.
risk analysis and safety assessment of an organic chemical reaction process and understand the safety precautions required for laboratory work.
turning a recipe into a complete synthesis, which includes setting up the reaction, do work up and purification of the desired compound by means of extraction, distillation and crystallization.
structure determination of organic compounds using the most common analytical methods (melting point, NMR, IR)
basic synthesis planning, which includes extracting relevant information from organic chemistry databases, design and execute an organic reaction process and report the result.
Intended learning outcomes
After passing the course the student should be able to:
describe and analyze basic organic reactions and their mechanisms
apply the concept of "green chemistry"
reproduce basic chemical synthetic procedures and analyzes
apply basic spectroscopic methods for structural analysis of organic compounds
Course disposition
No information inserted
Literature and preparations
Specific prerequisites
Basic eligibility and special eligibility are required in Mathematics course E, Physics course B, Chemistry course A. In each and every of these subjects, the lowest accepted grade is passed or 3.
Recommended prerequisites
KE1140 Engineering Chemistry.
Equipment
No information inserted
Literature
No information inserted
Examination and completion
If the course is discontinued, students may request to be examined during the following two academic years.
Grading scale
A, B, C, D, E, FX, F
Examination
LAB1 - Laboratory Work, 3.0 credits, grading scale: P, F
TEN1 - Written exam, 3.0 credits, grading scale: A, B, C, D, E, FX, F
Based on recommendation from KTH's coordinator for disabilities, the examiner will decide how to adapt an examination for students with documented disability.

The examiner may apply another examination format when re-examining individual students.
Other requirements for final grade
Passed examination (TEN1) and passed laboratory work (LAB1)
Opportunity to complete the requirements via supplementary examination
No information inserted
Opportunity to raise an approved grade via renewed examination
Plussning is allowed on KD1230 as long as no acceptance/participation on KD1270 has occurred.
Examiner
Peter Dinér
Ethical approach
All members of a group are responsible for the group's work.
In any assessment, every student shall honestly disclose any help received and sources used.
In an oral assessment, every student shall be able to present and answer questions about the entire assignment and solution.
Further information
Course web
Further information about the course can be found on the Course web at the link below. Information on the Course web will later be moved to this site.
Course web KD1230
Offered by
Main field of study
Technology
Education cycle
First cycle
Add-on studies
No information inserted
Supplementary information
Replaces the course KD1090