MF133X Degree Project in Mechatronics, First Cycle 15.0 credits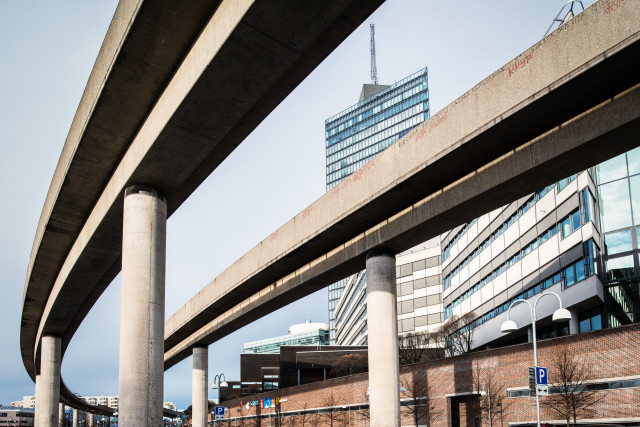 The education in Mechatronics on master level provides key competence and skills to create intelligent, flexible and user-friendly products for a wide range of applications. Examples include  intelligent devices like medical equipment, environmentally friendly and safe vehicles, sewing machines, robots and interactive physical environmental simulators. New and improved functionality is achieved by combining mechanical design, automatic control,  programming and embedded control systems.
The course aims at training the student to apply an independent study form to acquire and document new knowledge to be integrated with previous knowledge as a basis for product development, in particular within mechatronics. The course also aims to train your skills in using modeling and simulation as tools for describing, understanding, analyzing and developing new technical solutions.
Choose semester and course offering
Choose semester and course offering to see current information and more about the course, such as course syllabus, study period, and application information.
Headings with content from the Course syllabus MF133X (Spring 2021–) are denoted with an asterisk ( )
Content and learning outcomes
Course contents
The course is based on an own advanced work concerning some essential issue or subarea in mechatronics. At seminars, but above all through own search, knowledge necessary to highlight, answer and discuss chosen problems is collected.
Certain parts of the course are carried out in groups of 2-3 students, while other parts are carried out individually.
In the course, students will present, in writing and orally, an individual essay and critically review and publicly discuss the work of others.
Intended learning outcomes
According to KTH's established criteria to pass a degree project for a Bachelor's degree, the student should be able to:
1. demonstrate knowledge of the disciplinary foundation of the chosen subject area, applicable methods and orientation in current research and development and show advanced knowledge within some part of the subject area
2. demonstrate the ability to search, collect and use relevant information critically and identify one's needs of additional knowledge
3. demonstrate the ability to formulate, assess and handle problems and critically discuss phenomena, issues and situations
4. demonstrate the ability to plan and carry out assignments with applicable methods within given time frames
5. demonstrate the ability to account for and discuss information, problems and solutions, orally and in writing in dialogue with different groups
6. demonstrate the ability to make assessments considering relevant scientific, social and ethical aspects
7. show the skills that are required for working independently within some part of the technical field of study
Course disposition
No information inserted
Literature and preparations
Specific prerequisites
Completed courses of at least 120 credits in the 5-year engineering programme.
Recommended prerequisites
The course MF1016 Basic Electrical Engineering and a course in programming.
Equipment
No information inserted
Literature
No information inserted
Examination and completion
If the course is discontinued, students may request to be examined during the following two academic years.
Grading scale
P, F
Examination
XUPP - Thesis Project, 15.0 credits, grading scale: P, F
Based on recommendation from KTH's coordinator for disabilities, the examiner will decide how to adapt an examination for students with documented disability.

The examiner may apply another examination format when re-examining individual students.
In order to pass the course, an approved essay and participation in all compulsory parts are required.
Other requirements for final grade
KTH's established criteria to pass degree project for Bachelor's degree apply:
A literature study has been completed, including a description of applicable methods within the subject area and an orientation in current research and development. The selected method is explained and based on science or proven experience. Relevant knowledge from previous courses is adequately used.
The task of the degree project is largely handled independently. Relevant databases and search tools are used. Relevant literature and knowledge are incorporated in the degree project. The need for further knowledge is discussed.
The degree project contains a clear problem formulation and a progressive handling of it. Relevant phenomena, issues and situations connected to the work are critically discussed. Adequate judgements are made, regarding the research question(s) of the degree project.
The project plan developed during early phases of the degree project has been followed. The task is carried out within the agreed time frame and with the methodology agreed upon. Any changes to the plan or the work have been agreed, between student and supervisor.
The report is well organized and written in a well formulated and coherent language. The citations are relevant, phrased in the student's own wording, and well integrated. The oral presentation and the review, as well as the communication during the work, demonstrate the ability to present and sensitively discuss the work and its conclusions with different parties, such as employers, supervisors, teachers, researchers and students.
The degree project demonstrates judgement abilities, for example to explain, justify, criticize and recommend. Relevant topic-specific assessments based on science or proven experience have been made in the degree project. The degree project reflects on social and ethical aspects, unless this is shown to be irrelevant.
The student familiarizes him/herself with the task and demonstrates the ability to be a part of the working environment where the study was performed. The student shows ability to test and evaluate information in discussions of the task. The student shows initiative and is open for supervision and criticism. The degree project is carried out largely independently. 
Opportunity to complete the requirements via supplementary examination
No information inserted
Opportunity to raise an approved grade via renewed examination
No information inserted
Examiner
Martin Edin Grimheden
Ethical approach
All members of a group are responsible for the group's work.
In any assessment, every student shall honestly disclose any help received and sources used.
In an oral assessment, every student shall be able to present and answer questions about the entire assignment and solution.
Further information
Course web
Further information about the course can be found on the Course web at the link below. Information on the Course web will later be moved to this site.
Course web MF133X
Offered by
Main field of study
Technology
Education cycle
First cycle
Add-on studies
No information inserted
Contact
Daniel Frede (frede@kth.se)
Transitional regulations
From the spring semester 2021, changed requirements apply to Specific prerequisites.
Students who have started their studies before 01/07/2018 should during a transitional period, until the expiration of the autumn semester 2022, be considered eligible, if either the requirements for special admission requirements that has been set before the spring semester 2021, or the requirements in current official course syllabus is satisfied.
For course offerings starting from the spring semester 2023, only the specific prerequisites of the current official course syllabus will apply.