AF1002 Buildings and Civil Engineering Structures 7.5 credits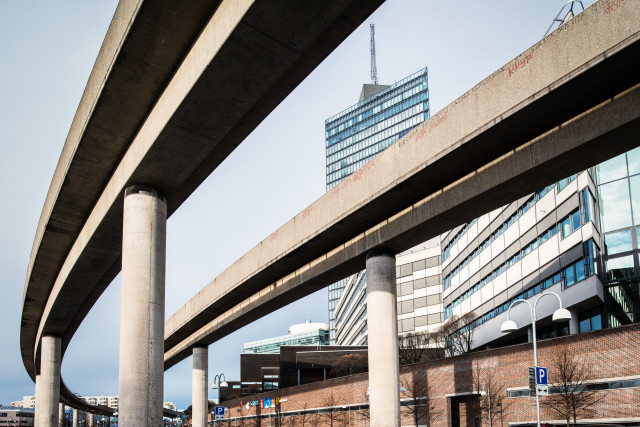 The course aim is to give superficial knowledge of technical properties of existing structures and buildings all the way from foundation, framework, structural components, insulation, installations and to give a background for the development of buildings. Focus is to give a background for valuing possibilities, risks and problems with renovation, repair modernization of existing buldings and civil engineering structures.
Choose semester and course offering
Choose semester and course offering to see current information and more about the course, such as course syllabus, study period, and application information.
Headings with content from the Course syllabus AF1002 (Spring 2021–) are denoted with an asterisk ( )
Content and learning outcomes
Course contents
The course gives an introduction to the modern construction and architectural history. From a technical perspective, the development until today's buildings and structures is reviewed.
Key concepts in structural analysis, building technology, service systems and energy systems are introduced as a basis to enable interpretations of technical documents within these fields.
Within structural analysis, frequently occurring structures and foundations for buildings and bridges are treated. Attention is put on loads, their origin and how they should be combined in the design calculations of the load carrying structure.
Within building technology, concepts and principles on the technical properties of the building envelope is treated such as temperature and vapour distribution, thermal bridges and the risk of moisture damages. Counteractions for problems in existing buildings are discussed.
The part about service and energy systems deals with important technical systems for heating and ventilation. An introduction to calculation of energy consumption and cost is also given related to rebuilding and extension.
Issues related to sustainability are treated in all technical disciplines. Some examples are choice of material, design optimization against cost and use of resources, serviceability criteria, availability, indoor climate and energy consumption.
Intended learning outcomes
After completing the course the student should be able to:
Describe the purpose and function of the parts of a building considering the load carrying structure, building technology, service systems, and energy systems.
Explain key concepts and principles within structural analysis, building technology, service and energy systems, and thereby understand and analyse simplified engineering problems.
Apply analysis methods to make preliminary estimations of the load effect to determine the structural capacity, the thermo-technical properties of the building envelope, and the energy needs of a building.
Perform a superficial inspection of an existing structure including drawings and technical documents to describe its design and technical properties.
Make suggestions on rebuilding and identify risks with a different use.
Prove an understanding of how technical issues influence the sustainability in construction considering natural resources, health and quality of life.
Course disposition
No information inserted
Literature and preparations
Specific prerequisites
Finished: AI1527
Activ Participation:
AL1302, SG1117 and AI1892
Recommended prerequisites
No information inserted
Equipment
No information inserted
Literature
Bärande och Buret. Sundquist H, 2014. TRITA-BKN. Rapport 87. KTH.
Byggteknikens grunder, kompendium i grundläggande byggnadsteknik. Byggvetenskap/Avdelningen för hållbara byggnader. KTH. senaste versionen
For the project assignment, the following book is also recommended:
Så byggdes husen 1880-2020. Reppen L, Björk C, Kallstenius P, 2021. Svensk Byggtjänst.
Examination and completion
If the course is discontinued, students may request to be examined during the following two academic years.
Grading scale
A, B, C, D, E, FX, F
Examination
PRO1 - Project Work, 3.0 credits, grading scale: P, F
TEN1 - Examination, 3.0 credits, grading scale: A, B, C, D, E, FX, F
ÖVN1 - Exercises, 1.5 credits, grading scale: P, F
Based on recommendation from KTH's coordinator for disabilities, the examiner will decide how to adapt an examination for students with documented disability.

The examiner may apply another examination format when re-examining individual students.
The examinationin this course isdivided into three parts, a written exam, mandatory assignmentsand a project carried out ingroups of three to four students.
Assessment criteria are announced when the course starts.
Other requirements for final grade
Written exam (TEN1, 3 hp)
Project task (PRO1; 3hp)
Exercises (ÖVN1 1,5 hp)
Opportunity to complete the requirements via supplementary examination
No information inserted
Opportunity to raise an approved grade via renewed examination
No information inserted
Examiner
Rickard Bellander
Ethical approach
All members of a group are responsible for the group's work.
In any assessment, every student shall honestly disclose any help received and sources used.
In an oral assessment, every student shall be able to present and answer questions about the entire assignment and solution.
Further information
Course web
Further information about the course can be found on the Course web at the link below. Information on the Course web will later be moved to this site.
Course web AF1002
Offered by
Main field of study
Technology
Education cycle
First cycle
Add-on studies
Building Materials and Building Physics, Soil Mechanics and Foundation Engineering, Building Technology and Building Services Engineering besides Construction Project Management
Contact
John Leander, john.leander@byv.kth.se 08 790 6493