DD1390 Programme Integrating Course in Computer Science Engineering 6.0 credits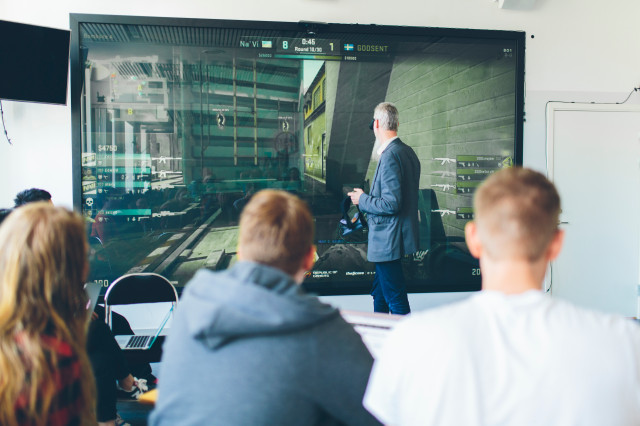 This is a course that extends throughout years 1-3 in the 5 year computer science and engineering programme. It can only be read by students from this programme. The aim of the course is to make the course participants into professional students, among other things by showing how the programme's courses are interconnected and giving everyone an opportunity to reflect on their study situation and current courses. It will establish contacts between the years and with teachers. It is also a part of the programme's quality development process.
DD1390 is given throughout years 1-3 and has 6 credits. There is also a variant of the course that is given only in years 2-3 (for those who entered the programme in year 2): DD1391.
The course consists of compulsory reflection seminars (an average of 1 credit per year), an ethics part in year 1 (1.5 credits) and a computer history priject in the spring in year 2 (1.5 credits). In addition, the course includes course selection information, program meetings and program evaluations.
Choose semester and course offering
Choose semester and course offering to see information from the correct course syllabus and course offering.
Headings with content from the Course syllabus DD1390 (Autumn 2022–) are denoted with an asterisk ( )
Content and learning outcomes
Course contents
How do course syllabuses, intended learning outcomes, grading criteria, and examination work at KTH?
Programme objectives, general skills, the main thread of the programme, lifelong learning.
Minorities and equality, ergonomics and mental health, internationalisation, the professional role.
The structure of the Computer Science and Engineering programme, possible choices, Master's (120 credits) programmes, mentoring, employability.
Evaluation of the programme, quality development, student influence.
Study experience, plagiarism and own responsibility, procrastination, self-reflection - what do I want with my education?
Participation in research studies.
Basic ethics: Ethical fundamental concept, computer ethics (given by the Division of Philosophy in year 1).
History of computer science and the computer in the social progress (given by the Division of History of Science, Technology and Environment in year 2).
Intended learning outcomes
After passing the course, the student should be able to
use academic calendars, course syllabuses, intended learning outcomes and grading criteria to plan their studies on both short and long view
plan and carry out assignments in stipulated time
make well justified specialisation and course choices
review critically and reflect on both the set-up and implementation of the education as well as their own study achievements
reflect on different topics relevant for the education and the professional role, such as progression in subject knowledge and generic skills, plagiarism, own responsibility, study technique, procrastination, internationalisation, health, minorities and equality, student influence and quality of education
identify their need for additional knowledge and continuously develop their competence
analyze and evaluate social and ethical consequences of computer applications
account for some important events in the history of the computer and computer science
discuss the importance of the context for technical change
carry out a limited history of computer science study and present it orally and in writing
in order to
obtain an overall picture of the education and thereby better understanding of the importance of each individual course
make informed choices both during the education and thereafter
be able to influence the development of the programme.
Course disposition
No information inserted
Literature and preparations
Specific prerequisites
No information inserted
Recommended prerequisites
No information inserted
Equipment
No information inserted
Literature
Jannika Andersson Chronholm and Staffan Andersson: Lär för din framtid - så lyckas du med högskolestudier, Studentlitteratur. ISBN 978-91-44-06652-3. Before each seminar, additional reading will be published in the course room in Canvas.
Examination and completion
If the course is discontinued, students may request to be examined during the following two academic years.
Grading scale
A, B, C, D, E, FX, F
Examination
SEM1 - Seminars and assignments, 2.0 credits, grading scale: P, F
SEM2 - Seminars, assignments and project, 3.0 credits, grading scale: P, F
SEM3 - Seminars and assignments, 1.0 credits, grading scale: P, F
Based on recommendation from KTH's coordinator for disabilities, the examiner will decide how to adapt an examination for students with documented disability.

The examiner may apply another examination format when re-examining individual students.
The final grade of the course is determined by grade points that are distributed at the activities in the course.
Other requirements for final grade
Active participation in all compulsory activities, passed reflection documents, ethics essay and history of computer science project report.
Opportunity to complete the requirements via supplementary examination
The requirements for E/pass for the final grade can be completed via supplementary examination.
There are written compensatory assignments for all mandatory activities in the course.
Opportunity to raise an approved grade via renewed examination
An approved grade cannot be raised via renewed examination.
Examiner
Viggo Kann
Ethical approach
All members of a group are responsible for the group's work.
In any assessment, every student shall honestly disclose any help received and sources used.
In an oral assessment, every student shall be able to present and answer questions about the entire assignment and solution.
Further information
Course web
Further information about the course can be found on the Course web at the link below. Information on the Course web will later be moved to this site.
Course web DD1390
Offered by
Main field of study
Computer Science and Engineering, Technology
Education cycle
First cycle
Add-on studies
No information inserted
Contact
Viggo Kann, e-post: viggo@kth.se, tel: 790 6292
Transitional regulations
The examination components UPP1, UPP2 and UPP3, that were used up to autumn semester 2017, correspond to the new components SEM1, SEM2 and SEM3, respectively, and may when needed be replaced by these.
Supplementary information
The course is available only for students at Master of Science in Engineering, Computer Science and Engineering (CDATE).

In this course, the EECS code of honor applies, see:
http://www.kth.se/en/eecs/utbildning/hederskodex